The Two Disc Challenge is a unique event designed to showcase some of the best discs MVP and Axiom have to offer, will be available May 26th of 2017, and continue on indefinitely.
Recommended entry fee for a Two Disc Challenge event is TBD.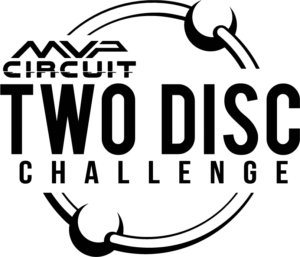 2017 Player's Pack includes:
The Winter Flight Series will also feature a unique metal Circuit champion trophy. Event organizers and TD's are also given a complimentary players pack and Black metal Coordinator trophy.
Standard Prize Pack items (to be divided by the Event Director) include an option of: MVP plastic (10 Circuit discs assortment), two Nucleus Tournament Bags, or a Black Hole™ Pro.. Prizes may be given for the winners of the round, as well as winners of Putter Olympics and the Driver Showcase.
---
About the Player's Pack Discs
More to come as individual items are announced.
Circuit-Stamped GYRO™ Plastic
2017 Circuit-stamped plastic is available exclusively to Circuit Event Directors with their event order.  If there are items here that you want, tell your Event Director more than 1 week in advance of the event so they can order.  Event Directors may also purchase additional Player's Pack discs, so let them know what you want!
Starting with the Circuit Challenge the following limited edition 2017 Circuit Stamps will be available
Octane – Plasma Plastic
Catalyst – Plasma Plastic
Insanity – Proton Plastic with Limited Watermelon Stamp
Atom – Proton Plastic
Teleport – Neutron Plastic
Relativity – Neutron Plastic
During the 2017 Winter Series the following Limited Edition Stamps will be available
Theory – Proton Plastic with Limited Watermelon Stamp
Resistor – Proton Plastic (Limited 2016 Circuit Stamp)
Signal – Neutron Plastic (Limited 2016 Circuit Stamp)