MVP Circuit Challenge is an event designed to promote disc golf to new players, introduce players to the MVP Disc Sports brand and products, and serve as a gathering for existing MVP Fans.
The MVP Circuit Challenge is available to be run May 26th through September 18th, 2017.


Recommended entry fee for an MVP Circuit event is $30.  This includes a Player's Pack worth over $60, one round of competitive golf, and numerous side games with prizes on the line.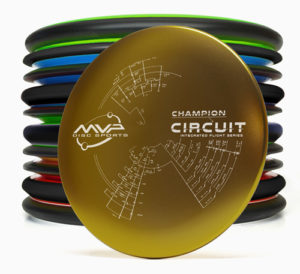 2017 Player's Pack includes:
Particle – Putter in Neutron Plastic
Vector – Midrange Driver in Electron Plastic
Servo – Fairway Driver in Plasma Plastic
Swag Pack with MVP Woven Lanyard, MVP Wristband, and MVP Vinyl Sticker
Retail value over $60!
2017 Event Offerings
As with previous years, MVP has always pushed the envelope with new and exciting discs and features. This year is no different. In addition to the extra event options such as the putting competition, and drivers showcase, MVP is proud to announce:
2017 Macro Tesla Challenge
One of our most popular drivers, now in Macro Form. Don't let its size fool you, this powerhouse flier has already been launched over 450+ feet by our testing team. So keep an eye out for this add-on in your order forms, and be sure to ask your tournament directors about getting a Macro Tesla!
Standard Prize Pack items (to be divided by the Event Director) include an option of: MVP plastic (10 Circuit discs assortment), two Nucleus Tournament Bags, or a Black Hole™ Pro, as well as a large metal disc with a unique MVP Circuit Champion stamp. Prizes may be given for the winners of the round, as well as winners of Putter Olympics and the Driver Showcase.
About the Player's Pack Discs
Neutron Particle Putt & Approach
• Newest addition to the 11mm rim putter class in premium Neutron plastic
• Low profile putter that fits comfortably in the hand
• Reliable stability that you can trust off the tee or within the circle
Electron Vector Midrange
• 13mm rim midrange class, now in the firm electron plastic
• Fast and smooth 21.5cm diameter midrange driver
• Responsive overstable flight for broad power spectrum
Plasma Servo Driver
• 17mm rim fairway class driver
• Stunning metallic "color-shift" Plasma plastic core
• Pinpoint accuracy for both low and high power throwers
---
Circuit-Stamped GYRO™ Plastic
2017 Circuit-stamped plastic is available exclusively to Circuit Event Directors with their event order.  If there are items here that you want, tell your Event Director more than 1 week in advance of the event so they can order.  Event Directors may also purchase additional Player's Pack discs, so let them know what you want!
Starting with the Circuit Challenge the following limited edition 2017 Circuit Stamps will be available
Octane – Plasma Plastic
Catalyst – Plasma Plastic
Insanity – Proton Plastic with Limited Watermelon Stamp
Atom – Proton Plastic
Teleport – Neutron Plastic
Relativity – Neutron Plastic
During the 2017 Winter Series the following Limited Edition Stamps will be available
Theory – Proton Plastic with Limited Watermelon Stamp
Resistor – Proton Plastic (Limited 2016 Circuit Stamp)
Signal – Neutron Plastic (Limited 2016 Circuit Stamp)